LogBank is a central repository of security, personnel, and building activity logs at ILC Diliman. It features analytics and tools for administrators and staff to help them carry out their office roles.
Its key features includes:
daily time records (DTR) of staff members via biometric logs

visitors' log

security guard's report

security routine instructions

live analytics (as opposed to retrospective inspection and analysis of logs)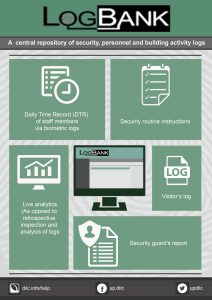 This project includes Biometric Security console using Rasperry Pi for data input using thumb or facial recognition.