ILC Diliman holds workshop on Business and Feature-writing

ILC Diliman Dir. Joseph Ryan Lansangan (rightmost front-row), speaker Mr. Marti Rodriguez (center front-row) and participants of the workshop.
Computer Laboratory Room 103 (ILC Diliman) — Interactive Learning Center (ILC) Diliman and other offices under OVCAA attended a business and feature-writing workshop last March 15, 2018. The workshop was held by ILC Diliman to help improve the skills of its staff (as well as those from other OVCAA offices).
Mr. Marti Rodriguez facilitated the 3-hour workshop.  Mr. Rodriguez is an instructor from the College of Arts and Letters, and is a speech and visual communication specialist.  He is also currently ILC Diliman's Program Development Associate (PDA) for Blended Learning and Teaching.
"I think it's apt that we had this training," said Rodriguez. "More and more offices need to be aware that proper business writing is a must when writing letters or memos."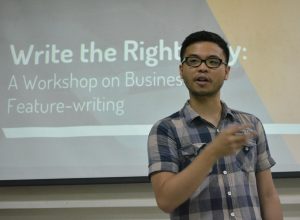 Business and feature-writing seminar workshop: "Write the Right Way: A Workshop in Business and Feature-Writing"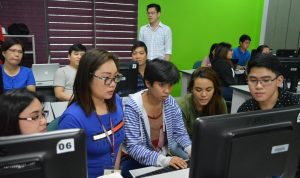 Participants of the workshop doing a group activity.
The workshop covered basic elements of business writing and fundamentals of news/feature writing. The twenty-one participants were grouped into four and were tasked to formulate (before and after lecture/discussion) business letters and news articles. Each group presented their outputs, and at the end of the workshop, they shared their learnings/takeaways.  
"Creating a letter must only consist of important details and we should limit adding unnecessary information that confuses the addressee," said Group Two.  Another group mentioned the value of using the "inverted triangle" (most important, other details, good-to-know) when writing letters and articles.
With the success of this event, ILC Diliman commits to offer more advanced seminar-workshops on business and news/feature-writing, as well as on oral communications, presentation skills, and business conduct & ethics.
For more OVCAA and ILC Diliman news, click here: OVCAA, ILC Diliman