UVLê 101: A Quick Introduction
ABOUT UVLê
WHAT IS UVLê?
University Virtual Learning Environment (UVLê) is a learning management system (LMS) developed and offered in UP Diliman. UVLê is also being used in other CUs (e.g. UP Manila, also UP Cebu, UP Baguio). UVLê and other information, management, and collaborative systems/services are managed by the Interactive Learning Center (ILC) Diliman.
ILC Diliman launched an updated version of UVLê this 2nd semester A.Y. 2017-2018, this is the second major upgrade of the university's LMS.  Note that UVLê is essentially a Moodle site. It has been running on a customized code of Moodle. Moodle is an open source learning management system. The new UVLê runs in Moodle 3.1 platform.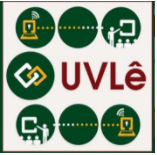 WHAT CAN YOU DO IN UVLê?
UVLê allows teachers to create online spaces for their classes. With strategic implementation, UVLê can be effective in supporting learning. Although mainly online, it supports a wide range of learning strategies such as enhanced active learning, adaptive learning, mobile learning, blended learning, and gamification, to name a few.
UVLê has a comprehensive set of LMS tools.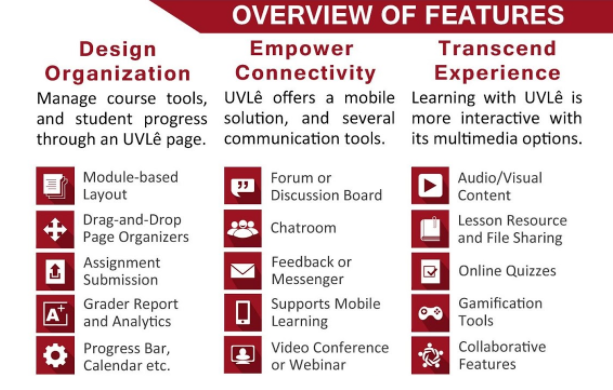 Besides class applications, it may be used for supplementary learning activities (e.g. online consultation/review site), formal communications (e.g. communication platform for members of a department), training programs (short courses offered by academic units), and other implementations.
ACCESSING UVLê

WHAT IS YOUR UVLê ACCOUNT?
It is the same as your Dilnet account (i.e. official/permanent CRS account). UVLê can be used by anyone who is eligible to have a Dilnet account (e.g. UP Diliman students, teaching staff, administrative staff). If you have problems with your Dilnet account, please contact or go to the UP Computer Center. After your first login, you must agree to the university's Acceptable Use Policy or AUP (general guidelines on use of university resources) to fully access UVLê.
WHAT IF YOU DON'T HAVE A DILNET ACCOUNT?
Send a request for an account. Members of other UP units can be granted access to UVLê through a request addressed to the director of ILC Diliman, provided that the intention of use is in-line with ILC Diliman's mandate. The request may be done as a unit. After account creation, users must agree to the university's AUP on their first login.
FOR TEACHERS
HOW TO OPEN A COURSE PAGE AND ENROL STUDENTS TO A COURSE?

Method 1: Via CRS
In the faculty module, visit the Instructor Dashboard. To create a page for a class, click the corresponding request link in the Action column. The course page will be created and students will be enrolled automatically the next day (i.e. every 3:00 AM).  Teachers and students will be notified in their e-mails upon processing. Note that this method is limited to teachers in UP Diliman (CRS users) and can only be used to create 1 course page for each class. If you wish to create a single course page for several sections of the same subject, Method 2 will be a better option.
Method 2: Via ILC Helpdesk
If you have special arrangements (e.g. one course page for 5 sections), then it will be better to open a course via ILC Diliman Helpdesk. Open a ticket under "UVLê – Open Course" and input details of your request (e.g. name of course). The request will be processed within 24 hours during work days. An enrollment key will be given to the teacher upon creation of the course. Students shall enroll themselves by entering an enrollment key.
WHAT IS THE UPLOAD LIMIT IN UVLê?
The upload limit is 100 MB per file. If an activity requires larger files, send a request for a higher upload limit via ILC Helpdesk.
FOR STUDENTS
HOW TO ENROLL TO A COURSE?
If the teacher requested the course via CRS, students are automatically enrolled to the course. The system fails to automatically enrol students who have never accessed UVLê at least once. Students will receive an e-mail, if the system fails to enroll them. The problem is usually resolved few hours after your first log in.
If the teacher requested the course via ILC Helpdesk, students must self-enroll to the course. The teacher will provide an enrolment key. To self-enroll, search for the course within UVLê, click the course link, and enter the enrollment key.
HOW TO SEARCH FOR COURSES?
If you are enrolled in the course, you will see it in My Courses. Otherwise, click quick links then choose view all courses. Find the course using the search bar.
FOR CLARIFICATIONS AND/OR ASSISTANCE.
You may contact ILC Diliman via:
online helpdesk:

helpdesk.ilc.upd.edu.ph

phone:

(63-2) 920-9556 / 981-8500 loc. 2058.
ILC Diliman manages and updates UVLê, and also provides trainings on using UVLê.