ILC Diliman Holds Basics of Teaching with UVLe 3
ILC Diliman conducted a seminar/workshop Training on Basics of Teaching with UVLê 3 for the UP faculty members last February 05, 2018 at the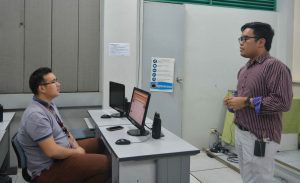 ILC Laboratory Room No.103. 
In the training, Mr. Michael Van Supranes highlighted the features of the Basic Teacher role, as well as the advantages of UVLê 3 over social media platforms as Edtech like Facebook. For example,  in the assignment setting submission feature, Basic Teachers can set up assignment submission dates such as the start, due and cut-off dates.
The training ran from 1:00 PM – 5:00 PM, led by PDA Michael Van Supranes, with the assistance Dir. Joseph Ryan Lansangan, programmers Tristan Jake Alcantara and John Mark Roco, and creative arts specialist Melody Briola as the photographer.