ILC x RoCP – A Collaboration with the ILC Diliman and the Rhetoric of Creative Partnership
by Marti Rodriguez
Interactive Learning Center (ILC) Diliman, in collaboration with the Department of Speech Communication and Theatre Arts (DSCTA) and the Japan Foundation (JF), covered the livestreatming of the Rhetoric of Creative Partnership: Conversations on Cross-Cultural Artistic Exchanges held at the GT-Toyota Auditorium this November 14 and 15, 2019.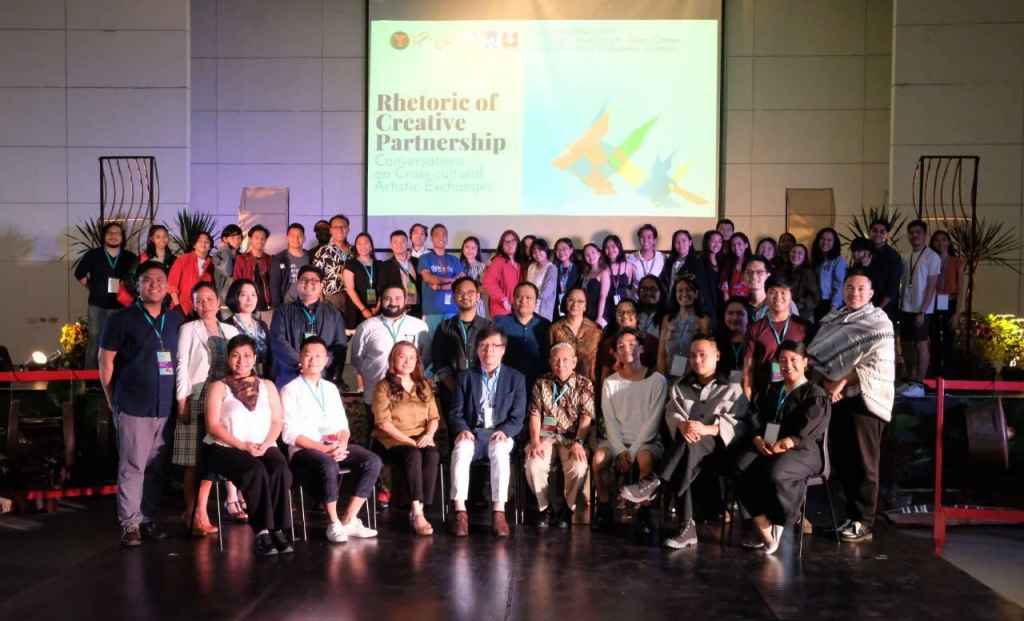 DSCTA x JF: The practitioners, speakers, and faculty poses after the two-day talk.
ILC was also in charge of recording the event for future teaching and learning materials for theatre, performance and communication students. Faculty members may also access this to enrich instruction, as the event focuses on one of the lesser-featured aspects of performance: the creative practitioner's projects and challenges.
Speakers of the event were:
1. Kentaro Matsui of Japan for the Opening Keynote,
2. Issa Manalo-Lopez and Tomohiko Kyogoku for the first plenary (Asian Performing Arts Farm 2019),
3. Armando "Tuxqs" Rutaquio, Jr. and Layeta Bucoy for the second plenary (Practices of Embodiments and Pedagogy)
4. Felipe Cervera and Jesca Prudencio for the third plenary (Practices of Devise and Dramaturgy)
5. Yi-Kai Kao and Andrei Pamintuan for the fourth plenary (Collaborative Platforms),
6. Mio Infante and Leo Abaya for the fifth plenary (Contemporary Scenography),
7. JK Anicoche and Rody Vera for the sixth plenary (Arts and Cultural Leadership), and
8. National Artist Ramon Santos for the Closing Keynote.
The event featured the challenges, learnings, and triumphs of collaboration in the different lenses and experiences. Most speakers have expressed that differences in culture, styles, and vision are all tied together–collaboration is losing the self in order to rediscover the identity as shared with your partners. 
One of ILC Diliman's foci are on maximizing pedagogy and instructional efficiency in the University. ILC creates learning objects, records lectures, and enables blended and tech-centric materials for professors and students in various areas. For more information, give us a call at (632) 8920-9556; 8981-8500 loc 2058 or send a ticket to https://helpdesk.ilc.upd.edu.ph/.