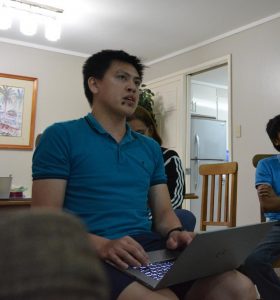 The ILC Diliman team headed by Director Joseph Ryan G. Lansangan had its annual strategic planning last July 29-30, 2016 at the Subic Bay Freeport Zone, Zambales.  I
n the 2-day event, the team reviewed and discussed the mandate, mission, functions, as well as the different programs and services, operations and structure of the office. The discussions and activities highlighted the roles and relations of ILC Diliman under the reorganization and restructuring of the Office of the Vice Chancellor for Academic Affairs (OVCAA), which was approved last May and which ILC Diliman is part of.  All ILC Diliman personnel including the two assigned Project Development Associates (PDAs) for ILC participated in the strategic planning.

In the opening plenary session, Dr. Lansangan presented the a brief review of the accomplishments and/or achievements of the office, the status of the planned  projects and activities, as well as the functions and structure under the reorganization.  He underlined the individual duties and responsibilities of the personnel as well as the roles of the new PDAs - one handling activities related to education technology advancement, the other handling activities related to blended learning/teaching and modernizing pedagogy.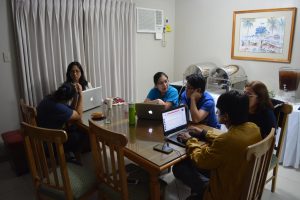 After which, the team was divided into four smaller groups and were tasked to map-out strategies and/or activities for the coming academic year and to identify medium- and long- term goals for the next 2-3 years using the SCOPE planning model as guide (see https://get2growth.com/scope-planning-model/). The groupings (and so the focus of each group) were on (1) blended learning and teaching (BLT); (2) multimedia services (MMS); (3) Website; and (4) University Virtual Learning Environment (UVLê) Series.  The groups were given ample time for brainstorming, working with SCOPE planning model, and in preparing of their reports.  Dr. Lansangan took rounds in participating with the groups.   
On the second day, the different groups presented their outputs.  Among others, the BLT group mentioned that as interest in blended teaching/learning is increasing among the faculty, ILC Diliman should take the opportunity to tap those already engaged as resource persons and to provide venues to share best practices and/or existing implementation of EdTech and/or modern/effective pedagogical strategies.  The MMS group reported that although there is a steady number of requests for multimedia services, there is still a need for improvement of facilities and equipment, as well as a review and revision of service/rental fees.  As for the Website group, they stated that there is need to update, develop and enhance the website, as well as streamline the tasks of the assigned web programmer and/or content manager.  The UVLê group covered the revamping of the training program in and resources for UVLê, putting forward the importance of appropriate approaches and scopes for training design and implementation, including feedback.
As closing, Dr. Lansangan encouraged the different groups to continue with what each has started and to also collaborate with the others.