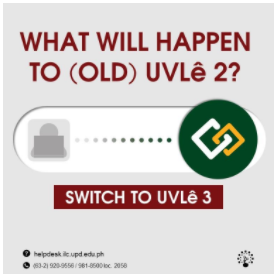 BE INFORMED: WHAT WILL HAPPEN TO (OLD) UVLê 2?

By 15 January 2018, UVLê will run under an upgraded site. This article discusses what will happen to your usage data (course pages, user information etc.) after switching to UVLê 3.
WHAT WILL HAPPEN TO ALL THE DATA?
All users, courses, and data files will be retained in UVLe 3. As in prior version, all old and inactive courses for more than 2 years will remain hidden and inaccessible to students to reduce clutter.
WHAT IF THERE ARE UNFINISHED MATTERS IN UVLê 2?
The old version will be accessible in a legacy site. If you have unfinished matters in UVLe 2 (e.g. students with INC grade), you may continue the activity by accessing the old version at https://legacy.uvle.upd.edu.ph/. The legacy site will be available until July 2018.
CAN WE USE THE LEGACY SITE FOR NEW COURSES?
Conducting new activities and classes within the legacy site is highly discouraged. Little support is available for the old version. It will also be confusing for students to use different versions of UVLe for different courses. For special/other concerns, please contact ILC Diliman via online helpdesk.
WHAT HAPPENS TO THE LEGACY USER DATA AFTER JULY 2018?
Data will be archived. For administrative records purposes, the data will be kept in archive by ILC Diliman for a minimum of two years.